Compared to the Fog, Hell is a whole lot more pleasant...
18 articles, 0 active users and 384 edits since 24 July 2014!

Hallows Maleficent is a horror-themed wiki based around a mysterious universe called the Fogscape, filled with horrifying creatures, Hallows, and the terrible, void-like Fog. This is a collaboratively-built wiki which anyone can contribute to. New users are required to write a [Pitch] first (see [here] for some helpful tips on how to write one). Don't forget to read the [About page] and [Rules], and welcome to the wiki!
We're migrating over to a new website!



The Administrators of Hallows Maleficent are as follows:
<div style="text-shadow: 0 0 5px red; color: red; font-weight: bolder; font-family: Jor; font-weight: bolder; font-size: 95%;">Whisper Forest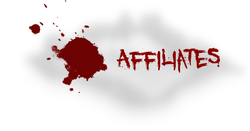 Coming soon...